Besides making unique high-quality fonts for you, we take pride in offering great service too. For example, all support issues are answered promptly within one hour during the day. So if you ever have a problem with a font you've purchased from us, let us know right away so we can fix the issue. Even if the issue isn't related to one of our fonts, let us know anyway. We're pretty good at helping you sort out software glitches and bugs. Letterhead Fonts is dedicated to making and keeping you happy. Here are just some of our satisfied customers who return again and again.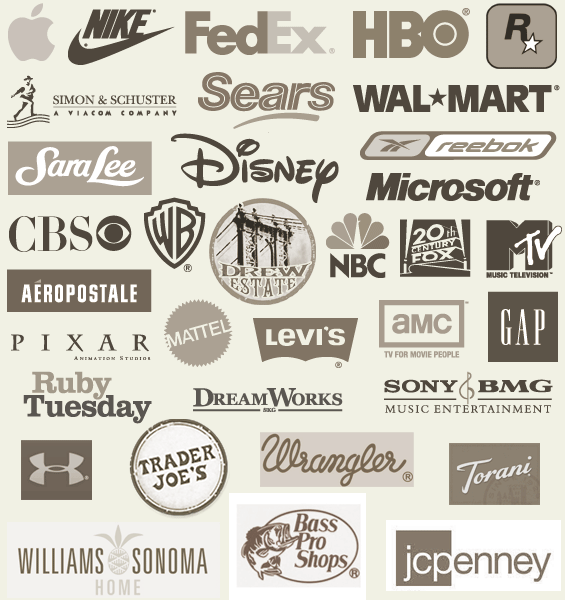 You are great! Best customer service I have EVER received when purchasing a font. :) Thank you again for all of your help and sending the font I really need!
Alaina Whetzel
Waynesburg, PA

I've been a huge fan for years now - Really love how diverse LHF is and how well they treat their customers. I'll never forget the awesome customer service. Kudos to you guys for all your efforts in the design community.
John Feldhouse
From YouTube

I've been a fan of your company for a long time and will continue to be so. It's nice to see first hand the wonderful way you treat your customers. Thanks for the fantastic product Letterhead provides. You folks have been my secret weapon for many years. Thanks again.
Todd Allen
Forest, VA

Thank you for the rapid reply! So nice when there's an actual human on the other side of the monitor.
Carol Haralson
Sedona, AZ

I just wanted to tell you how thrilled I am that I was able to access a font I had purchased previously, then lost during a computer crash. You made my day!!!
Beth Parker
Eufaula, OK

Wow, what a fast support service, and you're fixing it on Saturday!
Alberto Fernandez
Pontevedra, Spain

Thank you Carolyn! Very fast response, I'm impressed.
Carol Jerome
Mission Hills, CA

After all these years I just discovered your website (via researching Charles Borges, after seeing his "Desire" font elsewhere). Finally, the kind of fonts I've been looking for, with the kind of unique letterforms and useful alternates I've envisioned. Can't believe its been here all along. I've spent too much money on fonts that fail to reach the sublime level that yours do. Wish I had found you sooner, but I plan to make good use now that I have. Thank you for consolidating these wonderful letterforms, ornaments, and panels on this site!
Michael Griffin
Franklin, TN

I just wanted to say thank you for this site! Not only do you offer quality fonts with extensive ligatures but your gallery section is a never ending source of inspiration and unbelievable realization of what can be accomplished using Letterhead Fonts.
Rick LaComa
Fayetteville, NC

Had to email you to express my surprise and delight upon seeing your website makeover. Very, very impressive; awesome! Very rich visually, very detailed, very well done. As full and intricate as the main graphics are, the fonts still stand out. Your fonts and samples have always gotten my creative juices flowing but the new website is inspiring. Kudos!
Steve Schultz
Spring, TX

I can't say enough about the excellent service and products you provide via LHF and the professionalism of the entire operation. It will be my pleasure to do business with you in the future and you can be sure I will continue to recommend LHF whenever possible.

Elijah Muse
Norfolk, VA

I just wanted to say thank you to Denise who helped me resolve a billing issue today. Since it is Saturday I didn't expect to hear from anyone. I was pleasantly surprised to receive a phone call not 15 minutes after I submitted my question. She was very helpful and pleasant to talk to. I will definitely continue to order from Letterhead Fonts!
Carlos Barrera
Oceanside, CA

Just wanted to drop a quick note to compliment your team on still creating great typefaces. Also, wanted to thank you guys for one of the few places that take pride in the work they put forth. Keep those fonts coming!

Kenneth Laas, Jr.
Romeoville, IL

You are creative geniuses. These fonts are truly the best! They are original, unique, and stunning. I appreciate the time and effort required to produce such outstanding masterpieces.
Vik Patel
Sydney, Australia

I was very impressed by the flawless transaction: from setting up my account to the download and installation and finally, the set up. Not a single problem. A #1 in my book! Thanks for a great product. We'll definitely be back.
Jim Littley Jarsa & Company
Hillsdale, MI

As usual I am getting tons of fulfillment from the fonts you guys create. Along with the many other design work I use them for I use them a lot to letter boats and it's funny how 9 times out of ten my clients pick the Letterheads. Great work. Thank you.
Matthew Sabatino
Holbrook, NY

The ideas and the pics help bring me back when I've had enough or I'm simply out of ideas. Thanks for all the inspiration, it makes me want to go to work tomorrow and be better. Thanks guys.

Gord Colenutt
Canada

I have to say, you have provided the best service of any font company I have ever done business with. I will definitely do business with you all again and will recommend you highly.
Joan Zukor
Mercer Island, WA

Letterhead Fonts provides the buying options that I would expect from the 'big guys' and their fonts were not only high quality but well thought out and had unique qualities. Letterhead Fonts rocks.
Matt Mcdonald
Millersville, MD

We've been so impressed with your products. But more importantly, we have been even more impressed with LH's support and customer service. We're happy to do business with you.
Mike Stretch
Mason, OH

Your fonts are great! Your web site is great! It's like being in a candy store for designers. The right fonts make or break a design and, pardon the pun, yours hit a Grand Slam for me on this design and the client is thrilled with it.
John Baldwin
St. Louis, MO

But the thanks really should go to you folks at LHF for providing an awesome service to designers. I have been using your fonts for quite a few years and they really help me to make my work a little more distinctive. Thanks for all your efforts and keep up the great work.
David Hassan, Hassan Sign Company
Cohasset, MA

I appreciate the customer service and your dedication to excellence and meeting the needs of the customer. It's a rarity to find a company that will do this.
Shannon Brown
Rocky Mount, NC

Just wanted to say thanks - I knew I had bought Billhead at some stage but couldn't find what I'd done with it - was VERY impressed when I went to purchase it again as had given up on finding it that your system records past purchases and let me download it again!
Mary Adams
Wellington, New Zealand

Thank you very much. I have already used one of your fonts on a project for a client and they were very happy. Thanks for making such a great product.
George Peyton
London, OH