This antique early 1900's style from John Studden lends an old-fashioned feel to your design without being too frilly or hard to read. Includes full punctuation & accents. You might also like: Fairground & Old Flame.

SPECIAL NOTE:
LHF Towne Hall contains a special OpenType feature (for supported applications) which automatically substitutes plain uppercase characters for the second letter if two decorative caps are typed together (with the exception of same letter pairs such as AA or LL). This prevents the font from appearing overly decorative and hard to read. You can override this function by unchecking "Ligatures" in your application's character palette.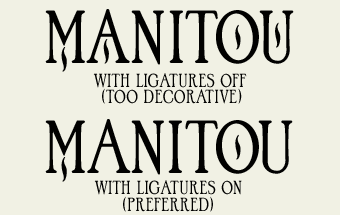 If your program does not support automatic ligatures, it is suggested that you follow the above example by not using two decorative letters together. But instead manually substitute the plain caps (located on the lowercase keys) when necessary.