Address Information not matching
The most common cause of failed payment attempts is credit card information not matching what your card issuer has on file. It may be that you are indeed using the correct address, but perhaps because of a recent move or other change, the information no longer matches correctly. Letterhead Fonts uses a strict Address Verification System and all information must match.
AVS Not Supported
Some credit card issuers outside of the United States do not participate in the AVS (Address Verification System) and therefore cannot be verified in that manner. If this is the case, it will be necessary for us to verify you manually. Please contact us if you suspect this is the case.
Incorrect Security Code
Please ensure that you are typing the correct security code for the card being used. This code is 3 digits for Master Card and Visa and located on the reverse. American Express security codes are located on the front and consist of 4 digits.
Card Issuer Restricting Internet Purchases
Some credit card issuers place restrictions on internet purchases. Therefore, these cards may not be used to order fonts until you call them and request that the restriction be lifted.
Error 9010
If you are receiving the error code 9010, you may be attempting to order from a country that we do not accept payment from. You may also see this error if you have selected the wrong country in your billing information. If you are attempting to order from the US and you are receiving this error, please
contact us
right away.
Error 709
If you are receiving the error code 709, the credit card you have on file is either expired or invalid. Please be sure to update your billing information. If you make any changes to your billing, please clear your cookies and cache and try your order again.
Anonymous Proxy
For security purposes, any orders attempted using an anonymous proxy will fail.
Shopping Cart Bug After Updating Credit Card
Older accounts with numbers lower than 4520 may experience erratic behavior with the shopping cart after updating credit card information. To remedy this issue, please
contact us
so we can assist you.
Too Many Attempts
If your order fails repeatedly, your account will be blocked, in which case you will receive the message "Too Many Failed Payments". Please contact us for assistance with your order.

The credit card you are attempting to use is already registered to another Letterhead Fonts account. Each Letterhead Fonts account must have a unique credit card (or PayPal account) associated with it. Instead of creating a new account, please login using your existing account and update the required information.
If you are creating a new account because your email address changed, simply
contact us
and we'll be happy to update the email address for you. Please
do not
create a new account. Doing so will cause your old account to become disabled and you will be unable to download your previous purchases.

At this time, we are accepting payments from the following countries (subject to change):
| | |
| --- | --- |
| Australia | Italy |
| Austria | Japan |
| Belgium | Netherlands |
| Bermuda | New Zealand |
| Brazil | Norway |
| Bulgaria | Philippines |
| Canada | Poland |
| Costa Rica | Singapore |
| Denmark | Solomon Islands |
| Finland | South Korea |
| France | Spain |
| Germany | Sweden |
| Greece | Switzerland |
| Hong Kong | Taiwan |
| Ireland | United Kingdom |
| Israel | United States |

American Express, Visa, Master Card and PayPal.

Sorry, we do not accept checks, money orders or purchase orders. However, we do accept American Express, Visa, Master Card and PayPal.

On the first page of the shopping cart enter your code in the 'Promo Code' box and click the 'Apply' button. The discount will be applied to your total.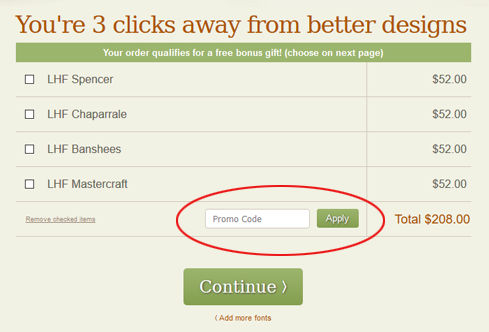 After you order, a receipt is immediately sent to the email address you provided when you created your account. Please ensure that your email account is set to accept email from: sales17@letterheadfonts.com. You may request a duplicate copy of your receipt by contacting us
.

Fonts are only available as downloads from the website. We trust you understand that creating CD's is far too time consuming since each one must be made custom. Besides, the file sizes of the fonts are very small, so it is much more practical and faster to simply download them.