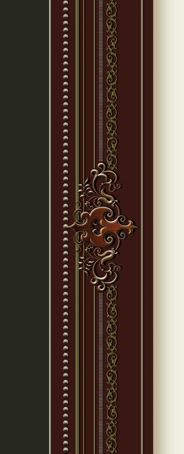 About Letterhead Fonts

Letterhead fonts are created by artists, just like you. They have regular jobs as graphic designers and sign artists. Most own their own businesses. We're a diverse group from all parts of the world, but we all have one thing in common-- we love letters and enjoy making them for you to use in your own projects. And because we actually use our fonts in real projects, you'll find that each LHF font is not only unique, but also practical to use.
You'll find the motto "Together We Create" at the bottom of each page. I chose this motto because creating great designs is a collaborative effort. We supply the fonts (and maybe a little inspiration) and you supply the design. The end result should be something that is both creatively satisfying and makes your client happy. And if your client is happy, then you make money and that means we've done our job.


Thanks for letting us be a part of your designs.


Chuck Davis, Founder

Chuck Davis

Founder


Chuck began his career as a published cartoonist while still in high school, eventually moving on to sign painting and then web design. Chuck made his first font as an experiment in 1998 and was hooked. Shortly thereafter, he created Letterhead Fonts in order to offer unique, old fashioned typefaces to other professionals. Today his time is divided between the daily operation of the business, creating his own fonts and assisting contributors in the creation of their fonts.
See Chuck's fonts here.

Arthur Vanson

Contributor


Arthur began his career hand-painting signs in his father's sign shop in Buckinghamshire, England. Later when he began using the computer to produce signs, he was dissatisfied with the availability and quality of the existing fonts and therefore began digitizing the letter styles he painted by hand. Many of Arthur's fonts (such as LHF Wade Grostesque) have been directly influenced by signwriter Cecil Wade. See Arthur's fonts here.

Brad King

Contributor


Brad has been producing custom designs, pin striping and lettering for nearly 30 years, working with some of the most prominent names in the custom automotive field. In recent years he has begun offering t-shirt design and printing to his customers. His energetic LHF Ragged Brad font is based on a style he primarily hand paints for race cars. See Brad's font here.

Charles Borges de Oliveira

Contributor


www.borgeslettering.com
Charles has been surrounded by letters and signs his entire life. His father had worked as a sign painter while his mother was a commercial lettering artist. His uncle owned a sign shop and it was there at age 22 that Charles began his lettering career working as an apprentice. In 2003 he released his first font LHF Sarah Script (named after his wife) and has since created over 6 typefaces. "That was the beginning of my fascination with creating type, and it just kept going from there. It's difficult, but rewarding." See Charles' fonts here.

Dan Sawatzky

Contributor


www.imaginationcorporation.ca
Dan started painting signs long before computers were invented. His favorite casual letter styles (such as LHF Spaz) became the basis for the fonts he has designed and those he is currently working on. His pet peeve is to see someone use one of his fonts 'right out of the box'. He states that they beg to be played with, the occasional letter resized or tweaked to make them work in a playful way. See Dan's fonts here.

Dave Correll

Contributor


www.brushworksigns.com
A graduate of Detroit Lakes Vocational Technical school, Dave has been making signs since 1983. While he prefers to do storefronts, monuments and dimensional signage, his Faribault, MN based sign shop handles work such as vehicles, banners, and logo design as well. His first font, LHF Samster Script (later revised and renamed LHF Signkit Script) was released in 2004 and others soon followed. When asked how he decides what fonts to produce he remarks, "I try to choose a font that I think most folks would use in their everyday work". See Dave's fonts here.

Dave Parr

Contributor


Dave first started hand lettering for pay at age fourteen through his family's screen printing company. As a professional sign painter, typefaces have been the primary component of Dave's work for over forty years. "Developing fonts is a fun and creative way to combine computer technology with traditional skills to apply our trade or craft." Dave's first font LHF Grindle is an unusual Art Nouveau- styled, fantasy set guaranteed to please Alphonse Mucha fans. In addition to his own fonts, he also regularly assists other designers in the completion of their fonts.
See Dave's fonts here.


Dave Smith

Contributor


www.davidadriansmith.com
Dave is an English signwriter and decorative reverse glass gold leaf artist. After leaving school at 16, he was classicly trained through an apprenticeship with traditional signwriter Gordon Farr. Most of his fonts come about naturally as a result of his logo designs, while others grew out of individual words or phrases developed for his reverse glass work. In addition to his glass work, Dave is also an excellent illustrator and expert at Photoshop. In fact, our Letterhead Fonts website design was created by him and speaks volumes about his love for classic period decoration and embellishment. See Dave's fonts here.

Denise Bayers

Contributor/Partner


After graduating from college in 1998, Denise Bayers worked as a graphic designer for a publishing company and graphic design firm. In 2002, she began working for Letterhead Fonts, and is currently building an online venue which will focus on teaching and inspiring other designers. See Denise's fonts here.

Duncan Wilkie

Contributor


www.comsign.ca
Duncan's interest in lettering began in 8th grade. The Speedball Book, a pen and some nibs were his first introduction to the world of lettering. After working in the sign industry his whole life, Duncan created LHF Garner as a tribute to honor his mentor, George Garner. See Duncan's font here.

Francis Lestingi

Contributor


www.signsofgold.com
Francis is a professional sign carver and designer who has won 10 national first place awards since 1999. He learned to letter in high school by "borrowing" hand lettered paper signs from shop windows at night. He would then proceed to study the brush stokes and emulate them, before finally returning the signs before 5 am the next morning. After earning his Ph.D., Francis taught physics and history of science. He then took early retirement to open his own sign business. His LHF Pierre font is a an excellent example of traditional calligraphy and a style Francis frequently uses on his own signs. See Francis' fonts here.

Gary Godby

Contributor


Gary got his start in the sign industry after getting laid-off from his job as a deckhand on a tugboat. Moments later, he watched a signpainter working on a billboard and was was offered a job, leading to a four year apprenticeship. He began creating fonts in 1989 as a way to challenge himself with a new craft and in 2003 released his first font, LHF Tyler, for Letterhead Fonts. Gary currently works as a sign designer and painter specializing in gold leaf at Graphic Services, Inc. in Manassas, Virginia. See Gary's fonts here.

John Davis

Contributor


Despite getting a late start in making fonts and vector designs, John's technical skill in drawing clean and accurate vector designs has proven to be a valuable asset for Letterhead Fonts. At the prompting of his brother, LHF founder Chuck Davis, John eventually put the artistic talent inherited from their father to good use and created his first font, LHF Bergling Panels. In addition to helping others draw their fonts, John is currently working on new fonts of his own from his studio in Southern California. See John's fonts here.

John Studden

Contributor


www.johnstudden.com
John was well on his way to becoming a draftsman in England when he happened to meet his mentor, Mick Kilgallon. That chance meeting convinced him to shift gears and learn the sign trade instead. Today he is an expert gold-leaf and glass artist, producing exquisite works of art using traditional techniques handed down by the masters. John created his first font, LHF Classic Caps, in 2002 and has since created over 60 classic period typefaces. These days he splits his time between making new fonts and running his shop. See John's fonts here.

Kaitlin Sims

Contributor


An interest in design and visual arts propelled Kaitlin to pursue a Master's degree in Architecture, which she completed in 2009. While earning her degree, she also attended courses in graphic design, ceramics, and drawing. See Kaitlin's fonts here.

Ken McTague

Contributor


After graduating from Butera school of Art in 1991, Ken went on to start his own sign company. He now owns and operates Concept Sign in Massachusetts. He created the popular LHF Boston Truckstyle (which has been used in numerous television shows, cd covers and t-shirt designs) in 2000 and has two more fonts planned. See Ken's font here.


Mike Jackson

Contributor


www.goldenstudios.com
Mike started Golden Era Studios in 1995 in order to offer vintage style panels and ornaments to sign and design professionals. His CD collections (now available in font format from Letterhead Fonts) feature very useful authentic period style designs. LHF Centennial Panels provides a good sampling of the beautiful quality work he produces. Prior to moving to Jackson Hole, Wyoming and opening his custom sign shop, Mike earned a degree in Fine Arts from Central Oklahoma University. Today, his time is divided between drawing new designs for Golden Era Studios and nature photography. Mike has also been a regular contributor to SignCraft Magazine since 1986. See Mike's fonts here.

Rob Cooper

Contributor


Rob has been hand carving and painting signs since he was 16. He has lived in New Zealand, the United States, and his current residence, Thailand. He began making typefaces about fifteen years ago as alphabet plates for Signcraft magazine. His LHF Gypsy font is a good example of the unique but well balanced style Rob brings to all his fonts. The sign work he now produces is mostly for local residents of the tiny island he lives on in Thailand. When he's not drawing letters or making signs, Rob enjoys archery and rock climbing. See Rob's fonts here.

Tom Kennedy

Contributor


www.letterheadlogos.com
Tom started working with letters back in 1989 while employed by a wood-sign company in Boston. It wasn't until 1998 that he began creating script letters inspired by an in-depth study of antique advertising and old letterheads. After moving to Sweden with his wife in 2001, he began to digitize these sketches and form them into fonts. His popular LHF Ballpark Script font has been seen on numerous cd covers, t-shirts, labels and movie posters. See Tom's fonts here.